Endless Avenue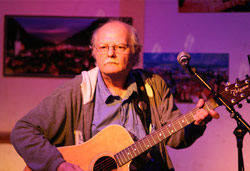 Is a project of the singer songwriter Ernst Eggenberger.
Ernst has worked with Howie Wyeth (ex Bob Dylan, Robert Gordon, Roger Mc Guinn etc) Joe Sun, Richard Dobson, Brent Moyer, Townes van Zandt and many more.
Sing out magazine wrote: "there's a guy named Ernst Eggenberger somewhere in Europe who writes these terrific songs" and "With all of the second- and third-rate material that clutters up too much commercial country music, produceres and artists looking for songs would do well to look at these records"
Ernst does not only write country songs, that was more because he was a founding member of the Country-Rock band "Funny Hill" for years. They recorded 3 of 4 cds in Nashville.
In Nashville Ernst also had the luck that Townes van Zandt that he knew from a mixingboardjob came to the Sessions and said "What can I do for you" he sang on Ernst Song "Sage" and contributet two verses for the only cover on the first Endless Avenue Album "Hobo's Lullabye"
Ernst recorded another Endless Avenue Album in Austin Texas under the production Of Marvin Dykhuis and Paul Pearcy.
He's also one of the only Europeans mentioned in the Book "Modern Twang by David Goodman.
Ernst keeps on playing and writing. He also worked as a host for 12 years on a Radio Station. Where he had shows like "No Borderline" "Jazz- and Soultrain" and more.
He wrote a couple of songs with the Swiss Blues Guitar Hero Andy Egert on became the title Track of the Album "Fire on the crossroad" also on Brambus.
2009 he started a Duet with the Singer Riccarda Vedana-Jörg, only accoustic Guitar of Ernst and a great female Voice. The premiere concert was recorded for a DVD. The first CD will be recorded in March 2010 in the Studio of Lou Geniuz.
In october 2009 Ernst produced "Flo"s Album "Sad but Sweet" in Nashville. Guest: Joanne Cash, Johnny Cash's Sister for a Duet. Flo was a finalist of the Swiss leg of "American Idol" called "Music Star" The record brings from Avril Lavigne , specialy written songs for her till Country songs like Wildwood flower.
Riccarda Vedana-Jörg/Ernst Eggenberger live at the werkstatt 2 CDs
Riccarda Vedana-Jörg/Ernst Eggenberger live at the werkstatt DVD
Both available through : info@endlessavenue.com
Also see